PROCESS: FROM INTAKE TO TREATMENT PLAN
---
The treatment with the patient is a well-defined approach: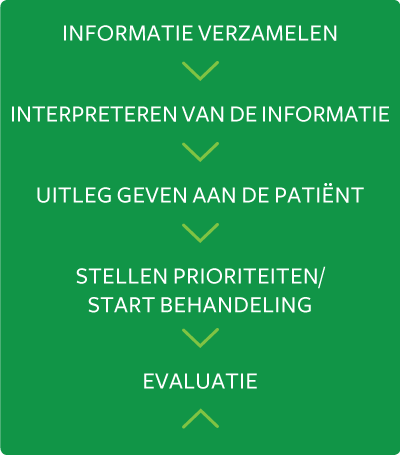 Collect information
The patient is before consulting the doctor asked to fill in a questionnaire. This survey provides insights on medical history, constitutional (including genetic) factors and environmental influences. It also looked at the lifestyle, such as sleep, sports, food and other things.
During the consultation with the doctor are the questionnaire and insight. Also the doctor will often consider a number of diagnostic tests and discuss with the patient. For example, the following tests can apply:
(Comprehensive) blood and urine tests
Food intolerance test
Examinations of excreta
Specific tests
Interpreting the information
After the tests have been returned from the laboratories are these, together with the intake during the consultation with the doctor, viewed in each other's cohesion. In this phase the concept formed behandelplan. The components of the treatment plan include:
Lifestyle and health advice
Often be deployed, especially orthomolecular supplements on the recovery of the immune system, intestinal wall, energy production and inhibition of inflammatory mechanisms.
If necessary supplemented by our treatment options.
If necessary, reference to the family doctor or a medical specialist. This depends on the insights that are formed during this process.
Explain to the patient
The conclusions from the study will be discussed with the patient. The patient is informed about the findings in this conversation, the treatment goals and how the treatment plan will be carried out. An important part is that the patient is aware of its own role and participation in the implementation of the treatment plan and the cost involved.
Priorities/start treatment
It is quite possible that the treatment plan is made up of a number of phases or insights. It is our vision that the gradual implementation of the treatment plan to a better success leads. It is decided in consultation with the patient, what steps can be taken first and start the treatment.
Evaluation, adaptation and end treatment
A mid-term evaluation is important to the symptoms and the patient's physiological are to evaluate. This information can be used to adjust the treatment plan, the next stage to start and to stop if necessary. At the end of the treatment, a final consultation held to the treatment goals and to evaluate results.